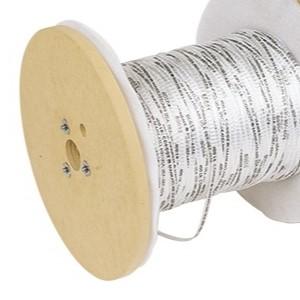 The Importance of Pull Tape During Cable Installation
November 05, 2018
Pull tape is a commonly used tool during cable installation. Cable installers use pulling tape to help route wiring inside and around walls. Pulling tape is typically made from polypropylene materials and this gives it a lightweight and low friction nature. At AMAC Equipment, we offer the best pulling tape for your cable installation needs. Our pulling tape offers a number of advantages and is recommended by industry professionals.
At AMAC Equipment, we help provide tools and accessories for professional cable installers including pull tape, hydraulic cable cutters, and more!
Advantages of Pulling Tape
Our pulling tape at AMAC Equipment is designed to suit your unique needs as a business. We have a wide variety of different tapes for a vast number of situations. Our Polyester Woven Pre-Lubed Tape is ideal for situations where you need fiber optic and low friction cable pulling. Additionally, we believe that any tools and accessories you use on the job should make the job more comfortable and efficient. That is why our pull tape is marked with precise markings that can assist in measurement if needed.
Another great thing about pulling tape is that it is great for decreasing any potential burns that you would usually get from rope that is connected to cables. Despite wearing safety equipment, there are still high chances of rope burns, however with pulling tape burns are decreased immensely.
At AMAC Equipment, we are the industry leaders in the best cable installation products in the business. Our pull tape is recognized as the strongest and most valuable tool for your business. We are dedicated to delivering the best accessories and tools to our valued clients. Our team of professionals and experts guarantee you will be satisfied with our services. Call or email us today learn more!
No comments yet...
*** Your email address will not be published.