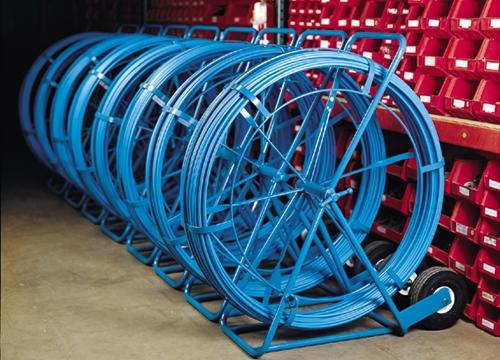 The Duct Rodder and its Many Accessories
January 17, 2018
A duct rodder is an incredibly helpful device used for pulling cables, cleaning and locating ducts, and for threading lines. There are many advantages to using a well-made rodder; they are lightweight for easy handling, resistant to weakening by UV radiation, and provide a good measure of water resistance as well. They do not become brittle when exposed to cold weather, nor do they lose their tensile strength in hot weather. The best ones, however, are made great with a bit of added help from one or more of several available accessories.
A duct rodder is usually used together with several of the following accessories:
Flexible leader - This component is used for guiding the rodders around misalignments, sweeps and bends.
Swivel coupling - This is used to connect a second duct rodder, should you run out before reaching the end of your conduit.
Tapered head - This guides the rod through the conduit. It is attached to the end fitting of the rod.
Roller guide - This is used to guide the duct rod along sweeps, bends and especially where the conduit is already occupied by other cables.
Basket combination - Basket combinations are used to connect two rodders that have been pushed into the conduit from opposite ends.
Threaded end fittings - These fittings are used when the duct rod breaks near the end of the rod, or in place of the factory installed fittings when they break.
Duct rodders are incredibly important tools for any cable laying project, and understanding how the get the best use out of them will make the process significantly easier. To learn more about these helpful devices and their accessories, feel free to contact us today, so our experienced teams can help you find the best setup for your needs.
No comments yet...
*** Your email address will not be published.