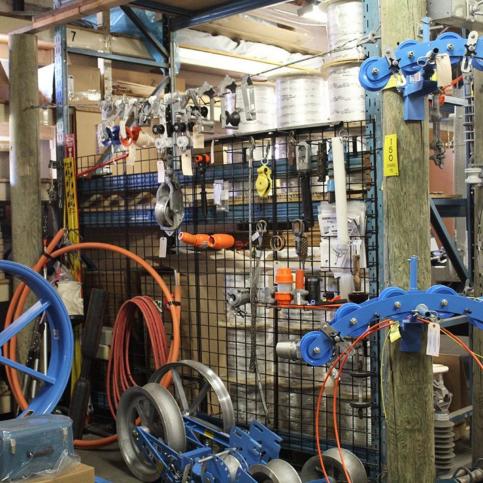 How A Cable Pulling Grip Is Used During A Cable Installation
September 03, 2021
Although cable pulling isn't a very complicated process, it does require some precision and properly following a set of steps. High-quality cable installation teams often have complete cable pulling grip equipment set up during such installations, for they are a very integral part of the operation.
Here's everything you need to know about the role of cable pulling grips.
Choosing The Right Diameter
The cable's external dimensions, mainly the diameter, can help determine the length and dimensions of the cable pulling grip. The grip will pull and change in shape during the cable pulling process.
Grip Damage Inspection
Broken wires, rusting, and other factors can cause wire damage during the pull. Thus, it is vital to make sure that your grip is in top shape. Alternatively, you can replace the grip in case it doesn't meet the company standards. To avoid such mishaps, it's wise to purchase quality cable pulling grips from AMAC Equipment Limited, a trusted name in the industry.
Wire Tightening
The next step is to tighten the wire mesh of the grip and test its tension capabilities. Wear gloves during the process to prevent any injuries. It is important to follow this step to ensure that the wire snugly fits the cable pulling grip.
Trimming The Cable
For a smooth installation, check the ends of the cable for any protrusions or yarn and trim them effectively.
Inserting Cable In Grip
At about the halfway length of the cable, make a mark and insert the rest of the cable into the grip. The mark should be at least 7 centimetres past the end of the wire mesh for a secure grip throughout the process.
Friction Tape Application
Lubrication and friction tape protects your fragile fibre cable's integrity. Therefore, evenly apply friction tape on the entire cable.
Pulling The Cable
Carefully pull the cable using tension-monitoring equipment. Some teams use dynamometers or onboard winch monitors to read the cable's tension and watch out for tearing during the pull.
AMAC Equipment has years of experience supplying the best cable equipment to Canada's finest cable installation teams. We guarantee that you'll get the desired results for your project using our quality equipment and products. Contact us today to learn more about our range of services.
No comments yet...
*** Your email address will not be published.