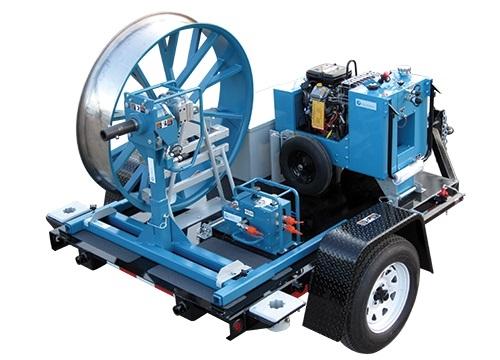 Fiber Blowers for Your Installation Needs
March 22, 2018
Fiber blowers provide an easy and safe way to install fiber optic cable. AMAC Equipment fiber blowers come in various models that are lightweight, portable and ideal for any commercial or residential installation needs. At AMAC Equipment, we strive to provide innovative tools to professionals that meet the highest standard of quality.
Fiber blowers function through a pressurized blowing system. A combination of push and pull force coming from the blower enables the cable to go through the duct smoothly and quickly.
This gives any technician a faster, safe and reliable installation method compared with to traditional pulling.
This blower is also suitable to use with microfiber and traditional fiber. Its purpose is to make installation easier, with the added benefit of allowing the same for the removal of duct and fiber.
With AMAC tools, you can count on innovative designs that will cater to your specific installation needs, increasing efficiency for any technical outfit. Durable and efficient equipment is an important investment, so our fiber blowers offer several benefits:
Safe
Unlike the traditional pulling methods, using blowers will not require as much time or manpower. It provides a more efficient method of installation while keeping the technician away from any possible accidents or malfunctions.
Simple
Considering the pressure and physical demands of everyday work, especially in cable installation, it is important to look for equipment that will lessen the stress, time and effort of your staff in the field. Our fiber blowers allow for ease of operation with precise results.
Reliable
It is of great significance to invest in trustworthy equipment. The quality of the products need to meet the highest industry standards.
We offer the following models, each ideal for specific installation needs:
• Gulfstream™ 400 Fiber Blower & Accessories
• Mini-Blower/Pusher & Accessories
• Hand-Held Fiber Blower & Accessories
Contact or visit us AMAC Equipment today to learn more about our fiber blowers and cable installation equipment today!
No comments yet...
*** Your email address will not be published.