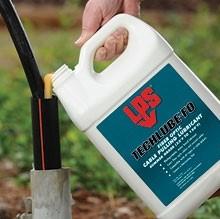 Cable Lubricants for a Smooth Cable Installation
June 25, 2021
Cable lubricants are essential tools in any cable installation as they make pulling cables much easier.
AMAC Equipment offers a wide array of cable lubricants used by industry leaders.
Get to know the different lubricants we recommend:
Polywater® CGL Communications Gel Pulling Lubricant
Ideal for pulling fibre optic, copper, or coaxial cables, Polywater® Lubricant CGL provides maximum friction reduction between cables and conduits under both low and high sidewall bearing pressures. It is also slow drying and leaves a lubricating film after its water base has evaporated.
Polywater® F Fiber Optic Cable Pulling Lubricant
Polywater® F Lubricant is a pourable thick liquid that is recommended for pulling underground fibre optic, coaxial, and copper-pair cables. It wets and clings to cable jackets and evenly coats the jacket surface. Even if the water base has evaporated, Polywater® F Lubricant continues to lubricate by leaving a film on the surface of the cable jacket.
Polywater® + Silicone™ Cable Pulling Lubricant
Ideal for underground transmission cable installation, the Polywater® + Silicone™ cable lubricant provides superior friction reduction on HDPE polyethylene conduits and PVC materials. It provides continuous lubrication when pulling through water and does not wash off. With its non-freezing formula, this cable lubricant can be used to pull cables in cold weather. Furthermore, the Polywater® NB variant contains small, friction-reducing roller balls.
Polywater® Prelube 2000™ Cable Blowing Lubricant
Polywater® Prelube 2000™ reduces friction when blowing fibre optic cables and micro cables. Furthermore, this cable lubricant is also available in winter grade, perfect for use in sub-freezing temperatures without affecting its properties.
The above lubricants are just some of the many lubricants AMAC equipment offers for different applications. Aside from lubricants, we also offer cleaners, degreasers, sealants, and leak detectors to make sure every cable installation is done on time and correctly.
For more information on our products, call us today and a representative will help you select the best products for your applications.
No comments yet...
*** Your email address will not be published.