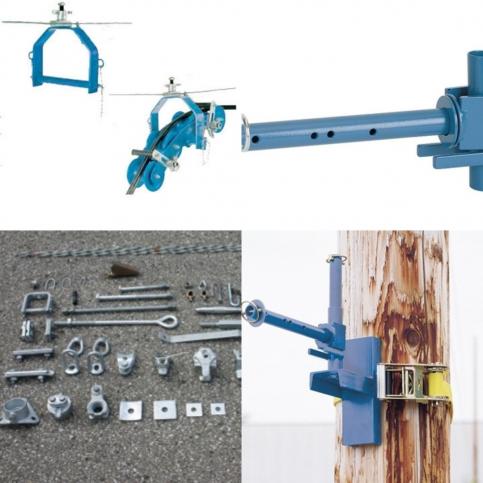 4 Essential Pole Line Hardware Tools for Cable Installation Teams
October 12, 2021
Pole line hardware is much more lightweight than underground cable installation equipment and is thus used extensively during aerial projects. Any experienced cable installers that provide top-shelf supply to other teams understand the importance of high-quality pole line equipment. Now every aerial project requires a different set of equipment, but it will never exclude these four important ones.
Here are 4 important pole line hardware tools found in every cable installation operation.
Cross-Arms
A cornerstone of aerial cable installations, arms or cross-arms use structural galvanized steel that lasts for decades to hold cables in place. They're most effective when it comes to strengthening dead-ends or in tangential cable installations. Most versions allow for a wide range of adjustments and options in terms of jumper pins, arresters, and equipment mounting brackets.
Bayonets
Before the cables reach the cross-arms, bayonets will support your overhead wires. All high-quality bayonets from AMAC Equipment use only galvanized steel to guarantee a minimum of 50-70-year lifespan. Our pole line hardware can accommodate traditional machine bolt sizes for efficient installations.
Bolts
Cable installation teams should always have a huge variety of bolts at their disposal. From a logistical standpoint, having a virtually unlimited supply of bolts might seem counterintuitive. However, having a large number of A-cable suspension bolts, brackets, carriages, and other types of bolts helps you prepare for any unforeseen situation, especially when you need to procure an extra set of parts and fittings for a project.
Braces
Support brackets will always be essential because you'll need different angles, apparatus mounting, cable extensions, conduit mountings, and other types of braces at your disposal to secure your cables in place. These also ensure that cables in every pole have proper tension and are secure in all kinds of weather conditions.

If you need the best aerial equipment and pole line hardware, we're here to help. We at AMAC Equipment can provide you with the best pole line equipment for all your project needs. Moreover, our expert technicians provide on-site demonstrations, training, and more. Contact us today to know more about our versatile product range.
No comments yet...
*** Your email address will not be published.