Single Lashing Aerial Cable Guide

This guide is economical but durable for new plant construction only.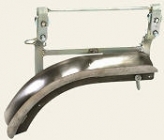 Also suitable for use with fiber and coaxial cables.
Has a 2 3/4" Cable Capacity.
Cable shoe has a unique non-stick, highly polished stainless steel surface to minimize cable friction.
Replaceable shoe makes it easy to keep the guide like new.