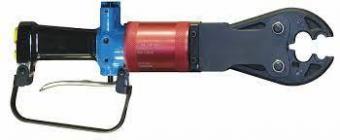 6 TON, LOW PRESSURE, HYDRAULIC CRIMPING TOOL
Operate from any 1,500-2,500 psi hydraulic power source. NO H/P intensifier needed. Smaller than many equivalent 6 ton low pressure crimping tools currently available. Crimp up to 4/O Copper or Aluminum. Operate Open-or Closed- Center systems. Crimping head swivels 180 degrees on handle. D3 seat accepts R6 and "W" style dies. "K" model accept Kearney style dies.
Specifications:
System: Open/Closed Center
Force: 12,000 lb.
Pressure: 1,500-2,500 psi.
Flow 3-9 gpm.
Capacity: 4/O Copper and Aluminum.