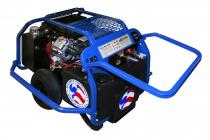 The REL-HPU-2000 provides the power needed to operate any standard Type I or Type II hydraulic equipment.
The 18 hp Briggs & Stratton gasoline engine delivers up to 2,000 psi of hydraulic pressure, at either user selected flow selector swtting of 5 or 8 gallons per minute.
Automatic throttoling feature ensures consistent performance throughout tool operation.
The oil cooler with high speed blower reduces operating temperatures and system wear.
The electric start, flow selector, and control valve are located on the front panel for operator convenience, while the choke, fuel II, and hour meter remain within easy reach.
The easy acess battery compartment located at the front of the unit holds a 35-Ah maintenance free battery. The convertible handle and 12" pneumatic tires provide ease of movement into hard to access areas.