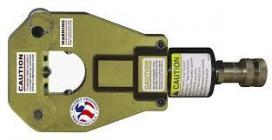 This single acting remote dieless compression head has been designed to crimp Anderson equivalent connectors manafactured to ANSI C119.4
This model features a connector range up to 750 MCM, and a 1.5 inch jaw opening providing ample space for easy die positioning. The flip top design and 180 degree swivel head permit simple tool positioning. The pull-pin closure will provide a safe positive lock.
Features:
6.2 Ton output.
Compatible with Anderson & equivalent dieless connectors.
Flip top design and rotating head provide easy placement around crimp.
Eliminate the need for dies under acceptable dieless applications.
Connector range from #10 to 750 MCM.
Copper and Aluminum.
Supplied with 3/8" male screw type coupler.
Carrying case included.