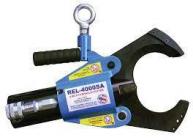 The REL-4000SA single acting hydraulic cutter has been designed to accommodate copper and aluminum conductor up to 4 inches in diameter. The body and handle have been designed to provide comfort, and to protect the operator from inadvertent steel blades will provide a clean cut with minial distraction.
Specifications:
Weight: 17.5 lbs.
Size: 15.6" x 10" x 4"
System: Hydraulic - 10,000 pisa max.
Max. Cut : 4 inch. dia. (Cu. or Al.)