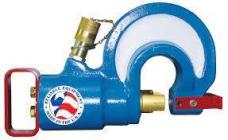 The REL-35T-PNC was designed to punch through 1/2" aluminum, copper, and mild steel. The punched hole side is 1/6" larger than your bolt side. A tripper guide extends on either side of the ram to strip the material after punching. This portable hand-held unit will operate from any 10,000 psi hydraulic pumping source. Applications include punching of bus bars, tower iron, railing, l-beams, and truck frames. The REL-35T-PNC comes complete with four punch and die set for 3/8", 1/2". 5/8", and 3/4" bolts, and steel carrying case.
Specifications:
Output: 35 ton
Weight: 28 lbs.
Capacity: 1/2" Mild Steel
Max. Hole: 12/16" Dia.
Dimensions: 14" x 8" x 3.5"
Throat Depth: 2.75