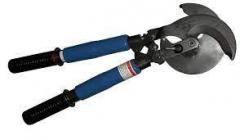 The RC1000-A combines a unique design with quality construction to afford speed, ease of use, and saftey to the operator.
Length: 19.5 in. , Weight: 4lbs.
Features:
Extra heavy duty "C" Jaw design & simple long-life ratcheting mechanism.
Thumb slide release allows rapid opening or closing.
Single lever allows east switch from opening to closing.
Reinforced fiberglass handles with a protective polyvinylchloride coating.
Practically half the side of standard ratchet cutters at less than half the weight.
The large cutting capacity of theese tools requires less than 50% of the ratchet opening of standard tools.