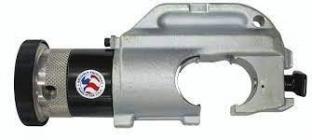 The PDY-1220 is the industry's most commonly used Crimping Head. Easy, one-hand operation for percision control of crimping to improve saftey and reliability. Accepts standard Reliable "U" style dies as well as some dies from Aloca, Burndy, Blackburn, and Thomas & Betts. Designed for connectors requiring 12 ton crimping force, and feature double-acting hydraulic power to eliminate die hang-up.
With: 10 lb. , Length: 9.5" , Width: 3"
Sepcifications:
System: Double-Acting
Jaw Capacity: 1-/16"
Crimping Force: 24,300 lb.
Return Force: 2,030 lb.
Oper. Pressure: 10,000 psi ( 690 bar)
Return Pressure: 5,000 psi (345 bar)
Couplers: Direct Connect
Dies Accepted: Y-35 or Equal
Head Rotation: 360 degrees.