Products /
Overlash Roller 4" Bundles
Simple & effective, this block handles cable or bundles up to 4".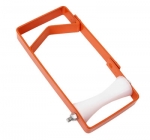 Overlash Roller 4" Bundles
The roller is made from industrial conveyor bearing material for high abrasion resistance with low rolling friction.
A spring-latch gate encloses cable & strand within the frame.
Steel frame allows "in field" straightening if dropped or bent.
A narrow profile & stackable design allows for high density storage.