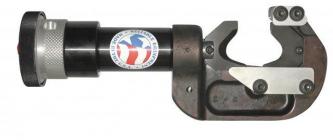 Double-acting hydraulic cable cutters are ideal for cutting individual conductors or communication cable. Double-acting operation eliminates hang-up problems from metalfash, and offers full control of cutting action at all times. The 360 degree rotating head eliminates hose twisting and increases operator speed and comfort. The model HP4707S cable cutter is ideal for cutting individual copper or aluminum conductors up to 1,000 MCM and can even cut ACSR cable with the standard ACSR blade set.
System: Double-Acting
Capacity (Jaw Opening): 1.25 in.
Force @ 10,000 psi (690 bar): 17,720 lb.
Return @ 5,000 psi (345 bar): 4,059 lb.
Max Operating Pressure: 5,000 psi (690 bar)
Max Return Pressure: 5,000 psi (345 bar)
Couplers: Direct Connect
Weight: 8.7 lb. , Length: 15 in. , Width: 4 in.